Chris & Betsy Fox Experience you can trust...
Is it Time for You to Buy Your Next Home in Clarksville?
Without the benefit of a crystal ball that doesn't exist, a good way to determine this is to compare the present with history. On November 6, 2012 the interest rate for a VA or FHA 30 year, fixed rate mortgage was 3% with 1% origination. When you look at history, any rate below 5% is a great rate to have locked in. A rate below 4% is almost unheard of.
Clarksville Tennessee has remained one of the strongest real estate markets in the country. Fort Campbell provides Clarksville with consistent market movement. The high volume of VA loans helped keep us from having over inflated home values allowing us to avoid a real estate crash like some areas. Clarksville is also a growing community with commercial and industrial growth.
We have a great inventory of homes available. Allow us the opportunity to show you what you can get buying versus what you would get renting. Then you can decide what's best for your personal situation and we'll be there to assist you.
So whether you're buying or selling, feel free to Contact us and we will be happy to help you with all your real estate needs.
Buyers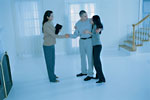 Whether you're looking for your first home, your dream home or an investment property, we are committed to providing you with the highest quality buyer service. When making the type of investment that buying a home requires, you deserve to have all the latest market information and the very best advice, both of which we can provide you
with. Read more.
Sellers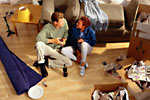 The decision to sell a home is often dependent on many factors. Whatever your reasons are for selling, our proven effective marketing strategies will ensure that you get the highest possible price for your home. We guarantee to provide you with professional, ethical and confidential service and keep you fully informed every step of the way. Read more